---


G&H G4™ Nickel Titanium Closed Coil Springs - 21" Spools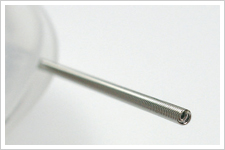 Closed Coil Springs deliver ideal forces for Class II intra-arch maxillary retraction as well as other space closure and maintenance applications.
.030" coil diameter - 21" spool
The unique G4™ Nickel Titanium alloy developed by G&H® is precision formed into closed coil springs. G4™ Springs provide consistent force and remain active until the space is closed. Consistent force values and full recovery are both routinely achieved with G4™ NiTi Springs - and also G4™ NiTi Archwires.