---


G&H G4™ Nickel Titanium Open Coil Springs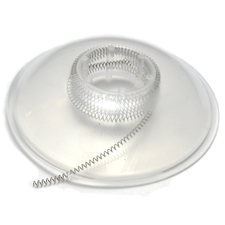 Open coil springs open and maintain space gently and efficiently in a convenient cut to length design.

Choose from (3) 7" straight lengths or (1) 21" Spool

Precision formed G4™ Nickel Titanium alloy into closed coil springs. G4™ Nickel Titaniam springs provide consistent force and remain active until the space is closed. Consistent force values and full recovery are both routinely achieved with G4™ Nickel Titanium.


*Forces determined by compressing a 1" open coil spring.

| | | | | |
| --- | --- | --- | --- | --- |
| Wire Size | I.D. | Force | Compressed 25% (.250") | Compressed 50% (.500") |
| .009" | .030 | Extra Light | 95 g | 225 g |
| .010" | .030 | Light | 120 g | 260 g |
| .010" | .036 | Medium Light | 90 g | 200 g |
| .012" | .030 | Medium | 220 g | 480 g |
| .012" | .036 | Medium Heavy | 180 g | 380 g |
| .014" | .030 | Heavy | 360 g | 700 g |
| .014" | .036 | Extra Heavy | 270 g | 560 g |
| .010" | .045 | Facebow | 50 g | 120 g |