---


G4™ Nickel Titanium - Pre Torqued - RC - Europa™ Form II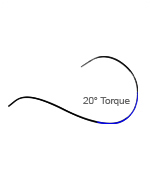 Europa™ Form II Reverse Curve
Damon* Compatible

Effective on both upper and lower arches, our 20° pre-torqued nickel titanium wires provide early and continuous translation of torque forces to anteriors that can be applied labially or lingually, simply by reversing the orientation of the wire.

Available in 3 mm span sizes. Typically, a 28mm span is applied to the lower arch, 34mm & 38mm for the upper. To select proper mm span, measure along incisal edge from distal of lateral to distal of opposite lateral with a mm ruler.

G4™ Nickel Titanium is an uniquely enhanced alloy that has been exclusively formulated to yield consistent and specific force, memory, and elasticity values.

The clinically significant characteristics of G4™ Nickel Titanium include lower initial load forces, for patient comfort, and increased residual forces as full shape recovery progresses. Teeth move farther and faster.