---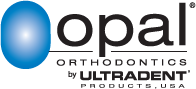 Opalastic™ Colored Chain
Opalastic colored chain is made from medical grade polyurethane, which is latex free and hypoallergenic. Available in three sizes, Opalastic colored chain provides a consistent force over time due to its superior elasticity.

Available in a variety of colors and packaged in 15' spools, Opalastic chain is the perfect complement to colored ligatures, allowing your patients the opportunity to show their true colors.

Opalastic chain has an inner diameter of 0.048".