---


G&H G4™ Nickel Titanium Closed Coil TAD Springs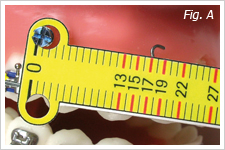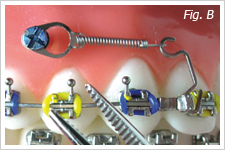 G4™ Nickel Titanium Closed Coil TAD Springs
The unique G4™ Nickel Titanium alloy developed by G&H® is precision formed into closed coil springs. G4™ Springs provide consistent force and remain active until the space is closed. Consistent force values and full recovery are both routinely achieved with G4™ NiTi Springs - and also G4™ NiTi Archwires.
Step 1. Use the specially designed TAD Ruler to measure the distance between the screw head and the hook. (Fig. A)
Step 2. Flip the ruler over to view recommended spring for the 200g force range or refer to the Force Chart and select any force level and size spring desired.
Step 3. Match the spring size desired to the label on the box and engage spring (Fig. B).
The TAD eyelet is shaped to allow quick and easy engagement without ligation to virtually all TAD Screws. The G&H® design slips over the screw head then snaps in place locking positively on the neck.
Special Offer
Order 12 boxes or more of your choice of springs. Receive a box of measuring gauges, inventory kit box and a laminated force chart at no charge.(12 box minimum)