---


G4™ Nickel Titanium - Preformed Lingual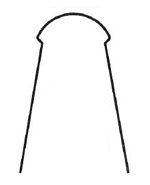 Preformed Lingual
These archforms were developed to meet the challenging mechanics of modern lingual treatment - designed and adapted precisely to lingual anatomy. Three anterior sizes in both upper and lower ensure a proper fit.

G4™ Nickel Titanium is an uniquely enhanced alloy that has been exclusively formulated to yield consistent and specific force, memory, and elasticity values.

The clinically significant characteristics of G4™ Nickel Titanium include lower initial load forces, for patient comfort, and increased residual forces as full shape recovery progresses. Teeth move farther and faster.